For each physical product that you trade in, you must create an item card of type Inventory. Items that you offer to customers but do not keep in inventory you can register as catalogue items, Inventory increases and decreases are naturally also recorded when you post purchase and sales documents respectively
We have a case task from one of our client who is trying to working out her daily inventory for her daily order item in Business Central. Managing inventory in Business Central can be really tricky.
These are her questions:
How can I see item inventory at specific warehouse?
This look at stock up until the point it is invoiced, so that is no good as you might have stock already on sales orders due to go out. (more for accounts)
How to Plan out inventory management and generating inventory reports?
This takes into account all of the sales orders however also the purchase orders that are on the system to, so will show there is stock but it might not be coming in for a month
How do I work out what can be shipped today?
I need to see available stock in the warehouse minus the sales orders (excluding the purchase orders as they have not arrived yet)
If you think you are facing similar issue, please read on. As this is a fairly common issue for all Business Central users managing their inventories.
Item Availability
If you go to right side of Sales Order and below you will find Sales Line Details area, this is where you can find the field called 'Item Availability'.

Say you have 10 quantity on hand of Lamp, Item 1500.
you enter the sales line (no qty) and there you can see that you have 10 in your BLUE location. (MM/DD/YYYY) with a Shipment Date of today 05/01/2020.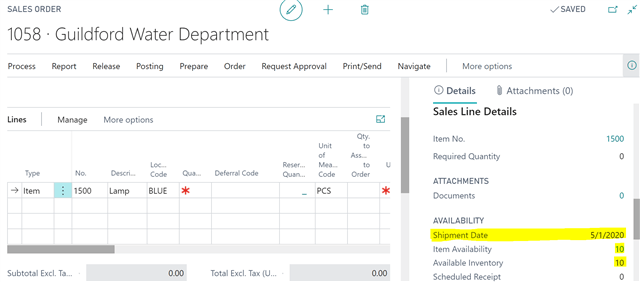 If you set your Quantity to 3, your Item Availability goes to 7.

You can create another Sales Order with same Shipment Date, or for ease of showing this, you can just add another line below...for 5 Quantity and your Item Availability goes to 2.

In regards to an Purchase Orders out there, you can add one as long as your 'Expected Receipt Date' is later than the shipment date on the sales Order, it will exclude this from your main calculation...as you can see here.... Your Purchase for 10 more quantity (Item).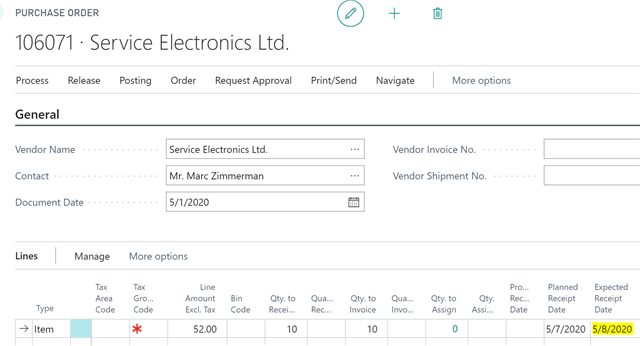 Your Sales Order will still show as it did last time 'Item Availability' = 2 still....and NOT take into account the Purchase Line that will be coming next week.
But, If you go ahead and set your Expected Receipt date to 5/1/2020 or prior, then it would increase your Item Availability in my Sales Line Details Fact Box to 12 and show your Scheduled Receipt of 10.... Like this...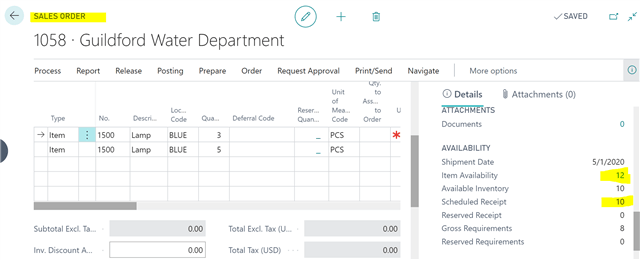 Hope this article will help you ease down on managing inventory for your daily order in Business Central.
Inventory management is a very important function that determines the health of the supply chain as well as the impacts the financial health of the balance sheet
Inventory is always dynamic. Inventory management requires constant and careful evaluation of external and internal factors and control through planning and review. Streamline your processes, make smarter decisions, and accelerate growth with Dynamics 365 Business Central—a comprehensive business management solution designed for small to medium-sized businesses.