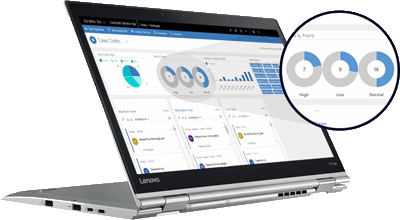 Microsoft Dynamics 365 is the next generation of intelligent business applications that enable organisations to grow, evolve and transform. Dynamics 365 unifies CRM and ERP capabilities by delivering new, purpose-built applications that work together seamlessly.
For Project Team
With Dynamics 365, we can help you drive your digital transformation. Manage your organisation and data with powerful business application connected to Microsoft Azure cloud service
For Executives & CEO
With Dynamics 365, run your entire business on single solution. Streamline your processes, make smarter decisions, and accelerate growth with controlled budget. Fits for all organisation.
Get To Know Dynamics 365
Dynamics 365 offers executives & CEO valuable insights into performance and opportunities through its business intelligence platform. Also, it gives employees the practical tools to be more productive, improve customer relationships and win more business
You can now deploy Dynamics 365 applications in the cloud or on-premises. Cloud deployments offer an ERP service that is fully managed by Microsoft, while on-premises deployments are deployed locally within a customer's data center. It is very important for CEO or executives before deploying Dynamics 365.
Dynamics 365 Product Line
All in One Business Management Solution
Your Trusted Partner in Dynamics 365
Metisc is currently Microsoft Gold Partner in Application Development and Silver Partner in Small and Midmarket Cloud Solution. There are multiple Microsoft MVPs (Most Valuable Professional) on staff and multiple time being rewarded with significant awards in Technology field across Australia.
We provide four main pillars of service excellence in making Dynamics 365 for decision maker & executives a right solution: Services – Support – Education – Add ons
Request free quotation today and one of our expert will get in touch with you shortly.
Request Free Dynamics 365 Quotation Now