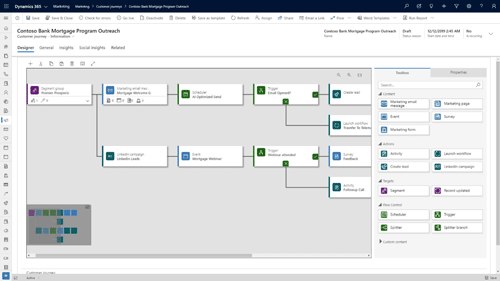 Turn Prospects into Relationships
with Dynamics 365 for Marketing
Increase customer demand for your products and services, create seamless customer experiences, and improve marketing results with Dynamics 365 Marketing.


365 degrees customer's point of view
Attract the right prospects by running targeted, multi-channel marketing campaigns with marketing automation capabilities that include email marketing, web landing pages, events, tele-marketing, SMS integration, LinkedIn integration, and other custom channels.
Create campaign assets quickly with marketing automation features including configurable templates, reusable content blocks, and design tools. Use Microsoft Power Automate to streamline content approvals and easily integrate with third-party content management systems.
Personalise customer journey based on buyer preferences and their past interactions. Automatically sync and nurture LinkedIn leads with Dynamics 365 Connector for LinkedIn Lead Gen Forms.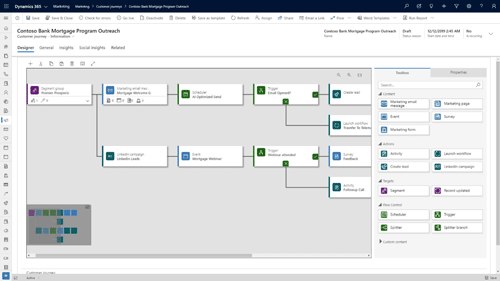 eBook: Elevate Your Email
"Elevate Your Email" is a comprehensive eBook that explains why email is the preferred method of communication for society and business communications. The growth of cloud technology has enabled hybrid solutions that can be customised to the unique needs of nonprofit organisations. Email cloud solutions provide more security and compliance while automating functionality for users, which ultimately save money.
Align Sales and Marketing Better Team Visibility for Campaign and Leads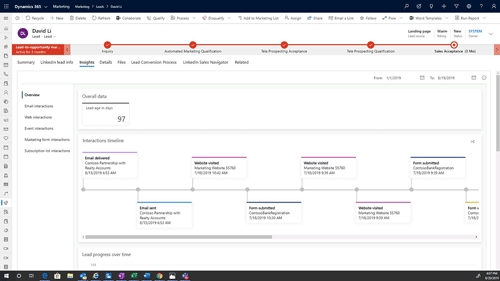 Create a single view of prospects and unify data across contacts, leads, and customers with Dynamics 365 Sales.
Identify, target, and close top accounts with personalised, account-based content and nurture activities.
Increase productivity and improve coordination between marketing and sales with pre-built workflows that automatically hand off sales-ready leads and drive follow-ups. Quickly write and send marketing-branded emails to targeted recipients using the send now feature.
Make Informed Decisions Focus on Highest Priority Leads
Improve marketing ROI with prebuilt dashboards and marketing analysers—or build your own custom dashboards.
Share and incorporate data across all your Dynamics 365 applications, including Dynamics 365 Sales, for seamless processes and a single version of truth for decision-making.
Target the right audience and focus on the highest-priority leads with data from Dynamics 365 Customer Insights, an intuitive customer data platform (CDP) that unlocks insights and provides a single 360-degree view of customers.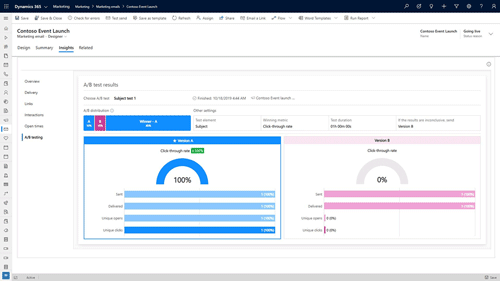 Grow with Adaptable Platform Enhance Marketing Campaign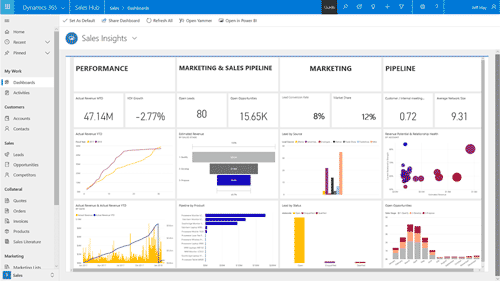 Adapt Marketing to your needs using tools like no-code visual editors that simplify build-and-deploy processes for the web and mobile apps.
Easily integrate data from Dynamics 365 and third-party apps and systems. Automate processes with either built-in workflows or create new Microsoft Power Automate workflows.
Market globally while maintaining compliance with today's global privacy and trust requirements. Request, capture, and store consent—a core tenet of GDPR—and drive your marketing activities based on consent given by your audience.
Discover how Metisc
can extend the Dynamics 365 for Marketing Function
Transform into customer centric organisation
Our Goals Deliver personalised experiences with a 360-degree view of your customers
Get a holistic view of customers

Bring together all your transactional, observational, and behavioral data for consumers and enterprises by using prebuilt connectors for popular data sources. Unify your data by resolving customer identities with recommendations based on AI and machine learning. Build rich customer profiles by incorporating audience intelligence from Microsoft Graph.
Discover insights and take action

Employ quickstart machine learning templates to predict churn or the next best action. Discover new audience segments with AI-driven recommendations, or create your own. Embed Customer Insights cards into your Dynamics 365 business application or external applications to drive informed action. Trigger workflows in response to customer signals by using Power Automate.
Adapt and extend the solution for your needs

Get started quickly with intuitive, guided experiences. Extend the solution using Azure Synapse Analytics to combine customer data with financial, operational, and unstructured IoT data to build custom machine learning models. Connect your customer data with Microsoft Power BI to customise dashboards and reports. Build custom apps with embedded customer insights by using Microsoft Power Apps.