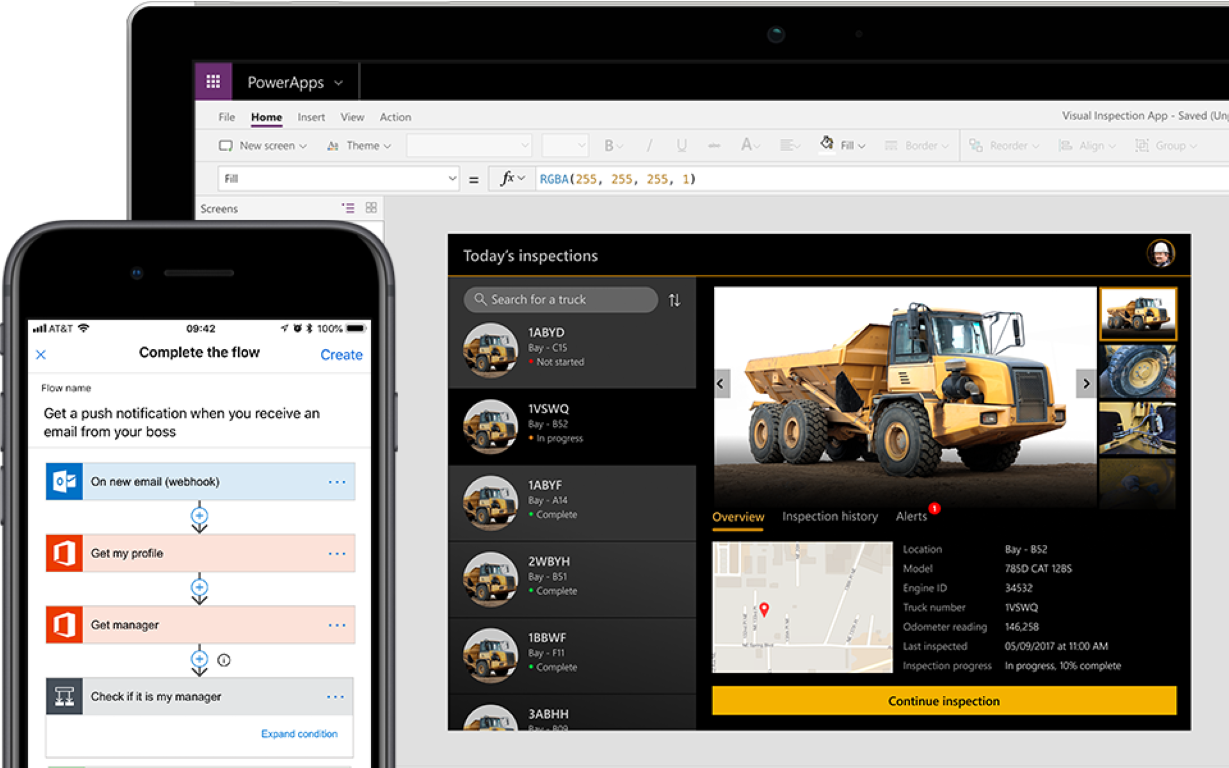 What is Microsoft PowerApps?
Microsoft PowerApps is a suite of apps, services, connectors and data platform that provides a rapid application development environment to build custom apps for your business needs. Using PowerApps, you can quickly build custom business apps that connect to your business data stored either in the underlying data platform (Common Data Service) or in various online and on-premises data sources (SharePoint, Excel, Office 365, Dynamics 365, SQL Server, and so on).
Apps built using PowerApps provide rich business logic and workflow capabilities to transform your manual business processes to digital, automated processes. Further, apps built using PowerApps have a responsive design, and can run seamlessly in browser or on mobile devices (phone or tablet). PowerApps "democratises" the custom business app building experience by enabling users to build feature-rich, custom business apps without writing code.
PowerApps also provides an extensible platform that lets pro developers programmatically interact with data and metadata, apply business logic, create custom connectors, and integrate with external data.
What does PowerApps do?
PowerApps provides a nice drag-and-drop user interface to allow you to add different controls (i.e. text field, choice field), media (images, video, camera controls for your phone), forms, and screens to construct a mobile app.
It also allows you to connect to external data sources or store data directly inside the app. Once you have created an app, all you have to do is publish it and share it with your organisation.
Do I have PowerApps? Is it tough to create and use Apps?
Good news is: If you have an Office 365 Enterprise E1 or above subscription, you have PowerApps!
Does that mean you have every feature of PowerApps? Not necessarily. Check the licensing page for PowerApps here to see all of the different license levels, features included with each license, and how to get a-la-carte licenses if you don't have Office 365.
When it comes to whether it's easy to create or not, it's like everything else: It just depends. You can opt for simple PowerApps that are really easy to create or you can go for ridiculously complex PowerApps that require a greater knowledge curve.
Contact us Today
and we will help you setting it up for you in no time.
Your Success Matters
Microsoft Certified Developer of Metisc
Driven to help organisations like yours
achieve app transformation in your environment