Get More of Your Digital Marketing
We understand that technology alone can't serve the needs of modern marketers. That's why we are pleased to offer a full range of marketing services to help our customers succeed.
We are offering our client a full marketing automation using ClickDimensions technology and seamless integration with Microsoft Technology. Metisc as dedicated Microsoft Dynamics 365 partner give our client an extra benefit into their digital marketing plan.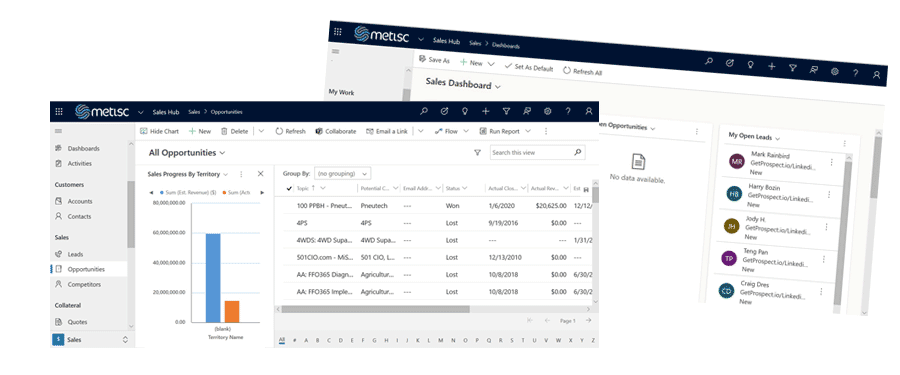 ClickDimensions & Metisc Marketing Services
1. Marketing Automation Application for Microsoft Dynamics
This special platform helps Microsoft Dynamics users to achieve more with their marketing. With Metisc expertise in Digital Marketing field, our clients can have a full integrated marketing solution to boost up customer engagement & capture quality leads in the process.
2. Social Marketing for Microsoft Dynamics
Social Marketing is a complete social media marketing platform for Microsoft Dynamics users and is designed specifically for B2B marketers who need smart, time – saving solutions that maximise their social media ROI.
3. Intelligent Dashboard Microsoft Dynamics
ClickDimensions and Metisc helps marketers understand what is working and what isn't by providing a holistic view of sales and marketing performance across all activities – connecting those activities directly to sales pipeline and revenue.
What is the difference with Dynamics 365 application?
In Dynamics 365, user have to create their KPI and logical process to achieve sales objectives. It is important for sales and marketing people to execute their objectives on the fly and utilizing their times to the fullest. With Intelligent Dashboards, our client won't have to spend times configuring business processes and KPI that matters to them. You will have access to 13 marketing and sales dashboards designed by marketing, sales and IT experts, tracking 172 best practice KPI's across your marketing automation, CRM, web, social and advertising channels – all available on the fly.
Why Choose Metisc as Your Trusted ClickDimensions Partner
We are 100 percent committed to supporting our clients every step of the way. Being a dedicated Microsoft Dynamics partner, we are one step ahead to create seamless integration within ClickDimensions ecosystem.
We will provide our client with strategic planning and ongoing support from our dedicated team. Furthermore, ClickDimensions have a 24 / 7 support for customers from Dynamics certified professionals.
Why Choose ClickDimensions? The All-in-one Digital Marketing Solution
As The Marketing Cloud for Microsoft Dynamics™, ClickDimensions is redefining how marketers work and attain results with the only unified marketing technology, analytics and services platform in the market. Made exclusively for and natively built within Dynamics, ClickDimensions allows marketers to leverage technology to its full potential by providing built-in measurable results and insights into revenue impact with world-class services to drive continual improvement.
Request Free ClickDimensions Quotation Now